Family of John Baptiste Calkin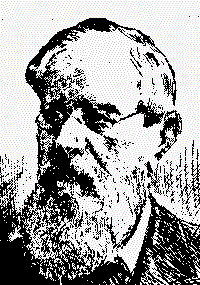 John Baptiste Calkin.
Cyber Hymnal - The Works of J.B. Calkin *
John Baptiste
Seventh of 8 children born to James and Victoire
Composer, organist, precentor, and choirmaster.
He was a prolific composer of church services, anthems and hymns.
John Baptiste was taught by his father James. He served at St. Columba's college, Dublin,
from 1846 to 1853 where he succeeded Dr Monk as precentor and organist.
On his return to London he served in various churches in London.
He then became an esteemed professor at the Guildhall School of Music and later at Croydon Conservatory.
In 1872 John Baptiste wrote the music to the classic carol "I Heard The Bells On Christmas Day", to which Longfellow supplied the words.
Longfellow's words were a poem written in 1864 during the American Civil War following his son being badly wounded in 1863.
When J.B.C. set them to music, two verses referring to the war were removed.
1841 Census
The 1841 census lists John aged 14 living with his parents.
1861 Census
The 1861 census lists John and his wife as being visitors at the home of John P. Vesey at
34, Gothic Villa, St. Pauls Road, Kentish Town, Pancras.
(no mention is made of their daughter Annie)
1871 Census
The 1871 census lists John, his wife and two children living at
48, St. Pauls Road, Kentish Town, Pancras.
Also living with them are his wife's sister, Ruth Edwards (44)
and a domestic servant, Elizabeth Hand (16) from Woodford, Essex.
1881 Census
Occupation as declared in 1881 census - "Professor of Music"
The 1881 census has him living at 55, St. Augustines Rd., St.Pancras.
Also living there in 1881, his wife, two children and two servants:
Rose A.L. Weller (21) of Bow - Cook,
Ruth Burgess (18) of Oakley, Buckingham - Housemaid.
John's address as listed in Historical Directories,
show him to still be at 55, St. Augustines Rd in 1882, but an 1896 directory now lists him at his new address:
1896 - 37, Hornsey Rise Gardens, Islington.
1901 Census
Occupation as declared in 1901 census - "Composer and Music Teacher"
The 1901 census now shows him as living at 37, Hornsey Rise Gardens, Islington.
The 1901 census also has his sister-in-law Ruth Edwards living with himself and Annie.
John's address as listed in Historical Directories for 1905,
show him to still be at 37, Hornsey Rise Gardens, Islington.


After his death "The Musical Times" of 1st May 1905 included a brief obituary of J.B.Calkin as follows :-
"With regret we have to place on record the death of JOHN BAPTISTE CALKIN, which occurred at his residence
37, Hornsey Rise Gardens, on April 15th, in his seventy-eighth year.
Born in London on March 16, 1827, Mr. Calkin has long been favourably known as a composer of church and organ music,
in addition to his painstaking work as a private teacher and at the Guildhall School of Music, where several of his pupils have gained distinction.
He was a man held in affection and esteem by all those with whom he came into contact, and his loss will be
much deplored not only by his family but by a large circle of friends."

After his death, the 1911 census shows that his daughter Annie remained in the property (below).

John Baptiste is buried at Highgate Cemetery close to Christina Rossetti.
The following information has been confirmed by Jean Pateman, Chairman of the Friends of Highgate Cemetery:
There are two Calkin graves in Highgate. The first contains five remains, John Baptiste 1905, his wife Mary nee Edwards1890, Ruth Edwards (spinster sister of Mary ) 1911 and Annie (daughter of John Baptiste) 1944. The fifth was actually the first there, Edith E 1871.
In 1945 Edith Lily (daughter of J.W.Archibald Calkin) was the last registered owner (but not buried there herself).

Later entries, after John's death in the Historical Directories show:
1906-1908 - a "Miss Calkin" (probably daughter Annie) living at 37, Hornsey Rise Gardens, Islington.

Born:
16.03.1827
at Middlesex
Baptised:
11.04.1827
at St. Pancras
Married:
c. 09.1857
to Mary Eurgain Edwards at St. Pancras (registered in Islington 1b 318)
Died:
15.04.1905
Aged 78, at Crouch End, Middlesex (registered in Islington).
Buried in Highgate Cemetery (plot 17965).
The last will and testament of John Baptiste Calkin has been transcribed below.
Calkin (nee Edwards), Mary Eurgain
Born:
c. 1829
in London
Died:
c. 09.1890
Aged 61, registered in Islington
Buried in Highgate Cemetery (her sister Ruth Edwards (d.5.1911) was also interred in the family plot).
---
Three Children
Annie E.
The National School Admission Registers lists Ann as an admission at North London Collegiate School in 1871
The 1871 census lists Annie (aged 11) living with her parents as above.
The 1911 census lists Annie (aged 48) living with her Aunt Ruth Edwards still at 37, Hornsey Rise Gardens, Islington.
Born:
c. 09.1859
at Barnsbury, London (registered in Islington)
Died:
23.02.1944
Aged 85, registered in Barnet
Buried in Highgate Cemetery.
Edith Ellen
Born:
c. 03.1861
registered in Pancras
Died:
c. 03.1871
Aged 10, registered in Pancras
Buried in Highgate Cemetery.
John Sidney
The 1871 census lists John S. aged 8, living with his parents as above.
Occupation in 1881 census = "Accountants Commercial Clerk".
For further detail of John and his family see his own webpage at his link above.
Born:
c. 09.1862
registered at St. Pancras
Married:
c. 06.1892
to Beatrice Emmeline Levett registered in Islington (1b 413)
Died:
c. 03.1948
Aged 86, registered in Hastings
---
THIS IS THE LAST WILL AND TESTAMENT of me JOHN BAPTISTE CALKIN of 37, Hornsey Rise Gardens in the county of Middlesex.
I give and bequeath to my dear son John Sidney Calkin my plain gold ring. To my dear grandchild and godson Clifford Sidney my gold watch and chain. To my dear brother George my amethist ring. To my dear nephew and godson Archibald my cameo pin. To my dear sister-in-law Ruth Edwards five pounds. All the rest of my money and property of whatsoever kind or description I bequeath to my dear daughter Annie for her sole use and benefit and I hereby appoint my said daughter Annie my sole EXECUTRIX IN WITNESS whereof I have hereunto set my hand this fifth day of February in the year one thousand nine hundred and one.
J. BAPTISTE CALKIN - SIGNED by the testator in the joint presence of us who in his presence and in the presence of each other have hereunto subscribed our names as witnesses - GEO J SQUIRES Manager London & South Western Bank Ltd Hornsey London - JOHN AVIS Bank Clerk 79 Alexandra Road, Hornsey.
ON the 4th day of May 1905 Probate of this will was granted to Annie Calkin the sole executrix.
---
Highgate Cemetery

This detail was sent to me by Ian Bernard Calkin, who I thank:
When Jean Pateman died The Pateman Memorial Fund was set up with two specific aims for Highgate Cemetery;
improving the archives and restoration of the graves.
We (Ian's people) made a substantial donation to the Fund around 2013 and asked whether our two graves could be restored.
The graves were almost invisible and in a very poor state.
However, the remarkable discovery, certainly unknown to my father's generation, was that alongside were
four further Calkin graves making a total of six and containing the bodies of twenty members of the family and friends.
These include the four Calkins who played in early performances of Messiah, i.e. James, Joseph, James Joseph and Samuel.
James, Ian's great great grandfather, is also referred to on page 571 of Thayer's Life of Beethoven.
The minutes of the Philharmonic Society record that he was one of the directors who voted to
make a contribution of £100 "to be applied to his comforts and necessities during his illness".
There are 18 Calkin family members interred at Highgate Cemetery, in these six plots: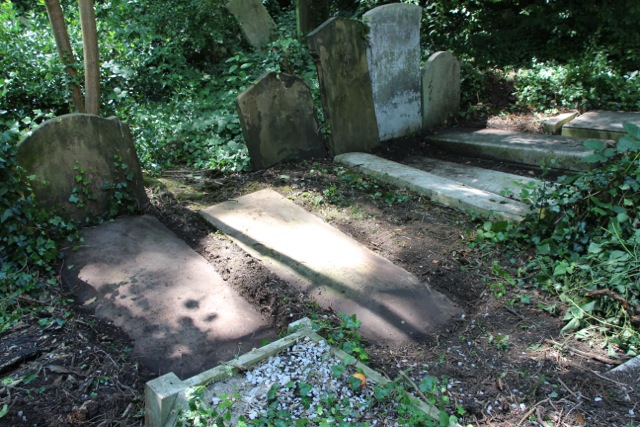 11529
JAMES CALKIN (1862)
VICTOIRE CALKIN (1871)
CAROLINE (Daughter of the above) (1887)
MARY PROSSER (Daughter of the above) (1887)

16272
JAMES JOSEPH CALKIN (1868)
MARY ANN WHITING CALKIN (Widow of J J Calkin) (1903)
LEE HOOPER (1896)

17965
JOHN BAPTISTE CALKIN Died April 1905
MARY EURGAIN CALKIN (Wife) Died 1890
EDITH ELLEN CALKIN Died March 1871, aged 10
ANNIE CALKIN (Daughter) Died Feb 23rd 1944
RUTH EDWARDS (Sister of Mary) Died May 1911

17997
GEORGE CALKIN Died July 1911
EMILY MARY CALKIN (Wife) Died Sept 1913
FRANK L0VELL CALKIN (son) Died March 1871, aged 1

20071
JOSEPH (Tennielli) CALKIN Died 6th June 1874, aged 58
ELIZABETH CALKIN (his wife) Died 5th July 1901
LAURA ISABEL LYNOTT (LILY) CALKIN (their only daughter) Died 5th April 1910

24144
JOHN WILLIAM ARCHIBALD CALKIN (son of Joseph (Tennielli)) Died 5th Nov 1924, aged 75.
ALICE ELIZABETH (wife) Died 5th Nov 1880, aged 29.

---
---
The Cyber Hymnal
Thousands of Christian Hymns & Gospel songs from many denominations.
Lyrics, MIDI files, scores, pictures, history and more.
Searchable, advanced autoplay feature, free downloads.
A new Hymn every day.
---
©2009 Graham Calkin's Family Tree. All Rights Reserved.
---