Hadrian's Wall Walk - July 2010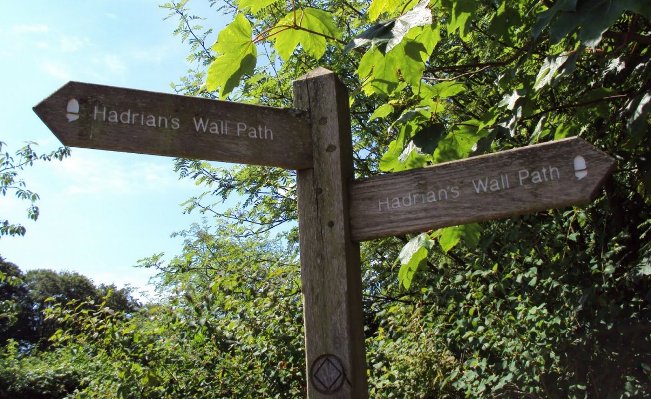 Hadrian's Wall Way Markers

We can't remember exactly what made us decide to walk all the way across the country from coast to coast,
but the course of Hadrian's Wall seemed to be the ideal route to enjoy great scenery and have a fantastic week.

Officially it's 84 miles of waymarked path from Wallsend to Bowness-on-Solway, but with the little detours for accomodation and sightseeing one can obviously do quite a few miles more than that. Either way it's quite a walk.
Many suggest that west to east is the way to do the walk as that is the way of the prevailing wind, but after giving it plenty of thought we decided to go the other way mainly because we could leave the urban sprawl of Newcastle and finish in remoteness that is Bowness.
I think we made the right choice.

We contacted Gary and Tracey at Hadrian's Wall who gave us superb assistance in arranging everything to make our week as hassle free as possible. They arranged all the accomodation, arranged to have our main luggage moved daily from each day's stay to the next and met us on the first morning to take us to the start and sit down with us and talked us through everything we needed to know.
Fantastic service.
---
Getting To The Wall
Saturday 17th July 2010

A good start as my brother Steve picked us up and dropped us at Laindon Station.
A cab from Fenchurch Street to Kings Cross, checked our train was on time then slipped outside the station to see if we could find a nice little place for lunch nearby. We did.
Hidden in a small alleyway right near the station was a quiet cafe where we could sit outside and have a nice lunch. Excellent start.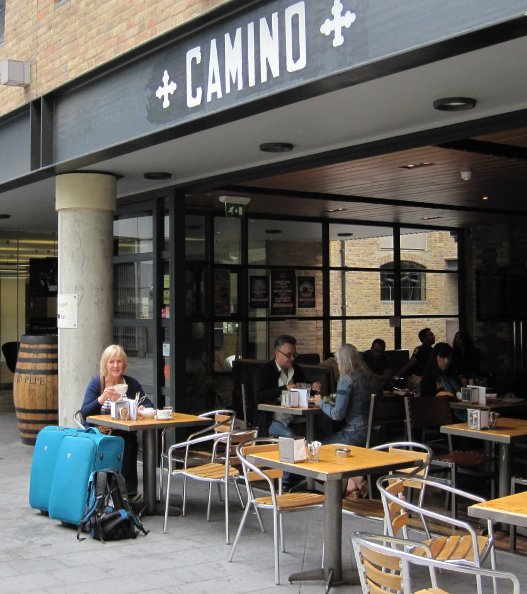 Viv outside Camino - near Kings Cross

The East Coast train service was excellent. It's the first time I've ever gone inter-city and the experience was fantastic.
Three hours straight into Newcastle - and being First Class we had superb service, great seats, views and comfortable surroundings, couldn't fault it. We'll certainly think about taking the train again with no road hassle at all, it's great.

Turned up at out first hotel in Newcastle and thought, "oh gawd, what have we let ourselves in for" it looked a right shady dive. Got there at 5 and it was full outside with Geordie drinkers who looked like they had been there all day and was more than a little dingy .... but, what a surprise upstairs, our room was enormous, with a king-size bed, tons of space and nice decor.
Dumped our cases and had our first walk, for the only time this coming week - not in earnest - just into and around the city. Walked along the Tyne and crossed back and forth across the bridges. Did the Gatehead Millennium Bridge of course and had a nice walk around in good sunshine (although a lot cooler than down south !).
In the evening we found a nice Italian restaurant right next to the Tyne bridge called Oliviana's and had an excellent meal.
Went back to our pub/hotel and had a few beers with the locals before retiring for the night in Newcastle.
We stayed at The Cumberland Arms



| | | |
| --- | --- | --- |
| | | |
| Newcastle - The Millennium Bridge | Newcastle - Start Of The Wall | Newcastle - On The Tyne |
---
Sunday 18th July 2010 - Day 1 of the walk
Wallsend (Segedunum) to Newburn (12 miles)
Weather: Dry and fine all day, not too warm (mid-60's) and perfect walking weather. Would you believe it rained just after we got to our destination about 5-ish, too late to affect us though.

After a good night's sleep in our huge room, the first disappointment, a feeble excuse for a B&B breakfast. No cooked brekkie, just a couple of stale things plonked on a plate and brought to our room. Surely, they wouldn't all be like this ? (they weren't !)
Gary from Hadrian's Wall turned up and he sat with us for about an hour talking through some things we could expect and to look out for. He then took our cases off to our next stop and dropped us off on the far side of Newcastle at Wallsend to the start of the trail.

There is a small museum and gift shop at the start at "Segedunum" and Viv desparately needed some breakfast having eaten none of the Cumberland Arms offerings, so we had some tea and a scone. Asked the chap in the museum where the start was and he said, "round the back".
Disappointment number two (that's two in two hours) .... there is NOTHING at the start, no gateway, no sign, zip ... so my photo album is missing a significant start picture because ... there was nothing there. I can only guess that because you are really in the middle of a Newcastle housing estate there wasn't any point.
Got on the official Hadrian's Wall Path at 11:30 ... we're off .........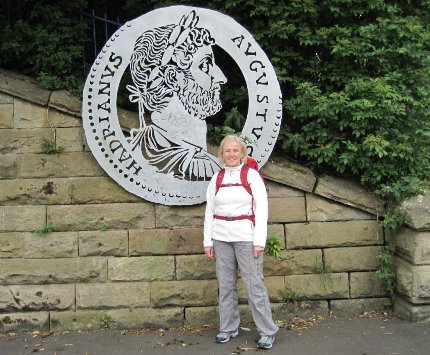 Viv at a place near the start of Hadrian's Wall


A couple of hours of walking, all on what really is a tarmac cycle path, and we were back into the City by the bridges - more-or-less where we started from: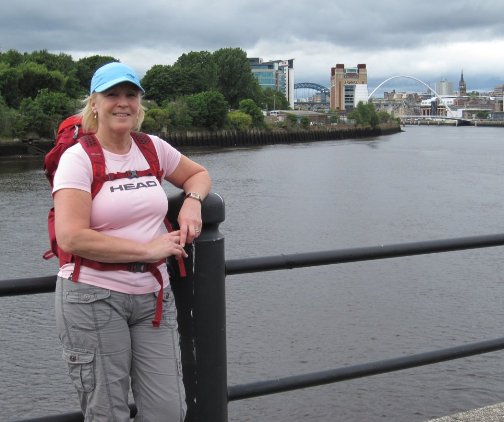 Viv on the Tyne as we approached the bridges
We stopped for lunch in The Quayside right on the Tyne which was nice, still in sunshine.
The rest of that day's walk was all on tarmac too as we got right across and out of the city to our first stop at Newburn.
The Keelman's Lodge is on the site of the old Big Lamp brewery, so the beer was good and the evening food was ok, if not slightly overcooked.
Nice room again though.
Our feet were sore though and I was showing the sign of a mark appearing on the ball of each foot. We think 12 miles of tarmac wasn't that good for our tootsies.
| | | |
| --- | --- | --- |
| | | |
| Keelman's Lodge - Big Lamp Brewery | Newburn | Last View Of The Tyne |
---
Monday 19th July 2010 - Day 2 of the walk
Newburn to Chester's Fort, Chollerford (17 miles)
This was going to be our longest day (17 miles - at least) AND to add to the difficulty, the weather was the worst day for us for rain.
It rained more-or-less All day.
Plus, this is the only day where we are on a schedule, we were supposed to get to Chester's Fort for 5 o'clock for a pick-up to take us to our next hotel.

Left The Keelman at 9:30 in drizzle, but this soon stopped briefly as we got going. Again started on tarmac for a few miles, until we got past Heddon then it was a long day following "The Military Way":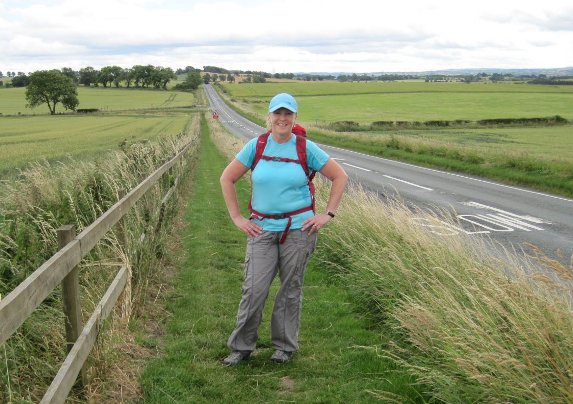 Viv on the Military Way


You hardly walk on the road though, but on tracks alongside it, behind hedges etc, so you do feel mostly like you are walking through countryside. And the sheer number of stiles you have to cross reinforces that idea.
It started raining in earnest about 11:30.
We got to what was our planned half-way spot - a handy pub called The Robin Hood - about 1 o'clock and took over one end of the lounge hanging all our clothes out to dry. All wet on the outside of course, nice and dry underneath.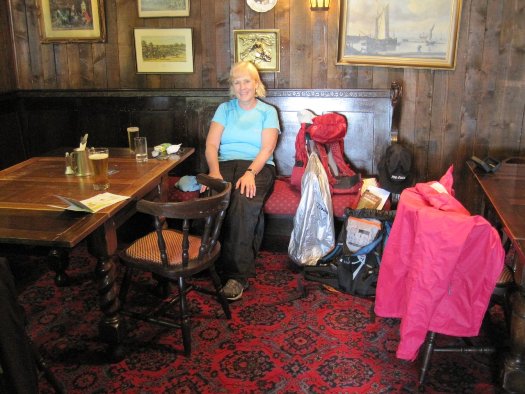 Trying to dry out in the Robin Hood

Over a nice pint and a ploughmans we checked our timings and realised getting to Chester's Fort by 5 was going to be tight, so we stopped less than half-an-hour and got back on the road. Walked briskly, without stopping for hours but by 4 o'clock it was clear we definitely weren't going to make the pick-up by 5, so rang ahead and got through to them and we agreed 6 o'clock. In fact, we actually got there through solid rain ALL afternoon by 5:30 - but it had been a tough walk - non-stop and we both had a blister. One Compeed later and the feet are good to go.
We stayed at The Battlesteads Inn.
The lady that ran the place was very friendly, our room was very nice, the food was superb and all in all we think this was our best stop ... probably.

| | | |
| --- | --- | --- |
| | | |
| Hadrian's Wall Country | Viv at Planetrees | Battlesteads Inn |
---
Tuesday 20th July 2010 - Day 3 of the walk
Chester's Fort, Chollerford to "Twice Brewed" (13 miles)
Weather: Rain gear on a couple of times with just odd light showers, but mostly dry and great walking weather.

The lovely lady from the Battlesteads Inn dropped us back at the wall and about 10 o'clock we started walking alongside the Military Way .... again. Not such a rush today !
It's from around here where we got our first surprise, you could actually see the Angel Of The North from here.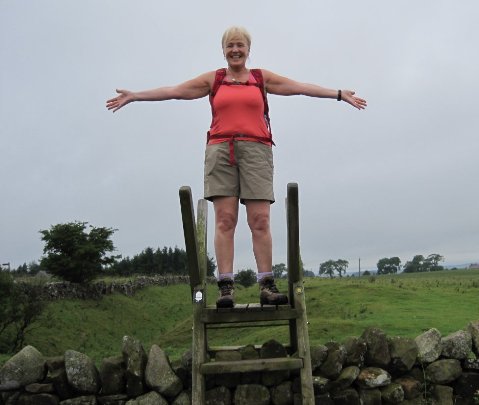 Angel of the North

Gary had mentioned to us that at Brocolitia Roman Fort there would be a coffee seller who would tell an interesting story or two, so we stopped there for a tea-break. After visiting the Temple of Mithras we soon left the route of the road and headed off up into the crags of the Northumberland National Park.
Before this section we'd only seen bits and pieces of the Wall, but now we were following quite a lot of it over some pretty steep hills. We also knew that we were not going to pass any handy pubs today, so we had a packed lunch sitting quite high up at Sewingshields Crags overlooking Broomlee Lough. A very nice place to sit, eat and contemplate.
Continuing after a 30 minute stop we walked on over more great looking and interesting crag walks which included "Sycamore Gap" where they filmed a scene of Robin Hood: Prince Of Thieves, when Robin (Kevin Costner) rescued a boy from the tree.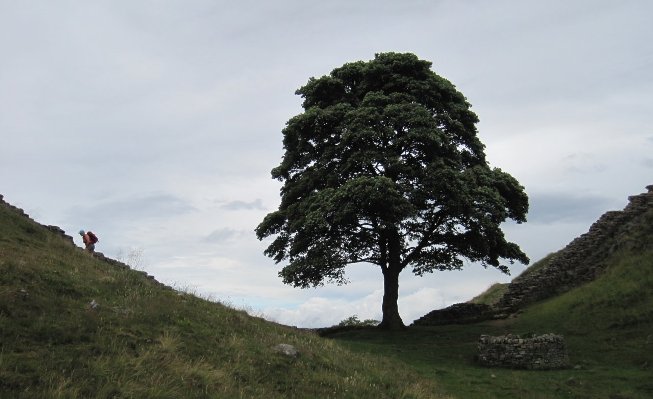 Viv Can Be Seen Climbing Left Out Of Sycamore Gap

Shortly after this we left the Wall and headed north to our third stop - Saughy Rigg Farm.
A typical farm with 11 rooms of B&B. They were very welcoming and our room was really nice with a big four-poster ... but a strange place with everyone disappearing immediately after dinner (dinner was on the poor side - just ask Viv about her "Cottage Pie"). So, we bought a bottle of wine and from 8:30 onwards we sat completely by ourselves playing cards (I won, of course).
By the way, the rain that had caused flooding in the Lake District that day arrived just a few minutes after we got to the farm and it poured down all evening - but we didn't care as we were indoors.
All-in-all this had been a very good day, no rush, no pains, great views and a really good walk for us that seemed very easy.
| | | |
| --- | --- | --- |
| | | |
| Viv Alongside A Section Of Hadrian's Wall | Graham Alongside A Section Of Hadrian's Wall | Housesteads - The Most People We Saw In One Place |
---
Wednesday 21st July 2010 - Day 4 of the walk
"Twice Brewed" to Lanercost (14 miles)
Weather: With the overnight rain of the night before and us being at the highest point of the trail, we woke to very low damp cloud obscuring everything. But after that it was not at all a bad day, perfect walking weather again.

The farm owner dropped us back at the Wall and we set off at 9:30. Within a couple of hundred yards we hit the actual highest point of the wall where it is said you can see both the Irish Sea and The North Sea ... but, with the low cloud we couldn't even see to the end of the field. It was damp too (see pic to the right).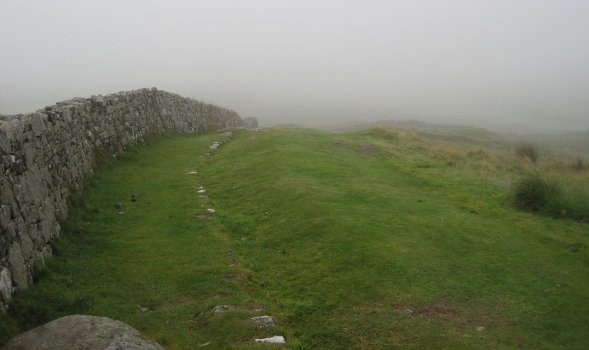 Winshields Crag In The Low Cloud

The first half of today was the last of the crags and after another packed lunch stop, it was smoother going through farmer's fields and some very pretty countryside. Even when you can't see bits of wall you are nearly always walking the route as you can see The Vallum - a v-shaped defence area the romans dug out next to the wall.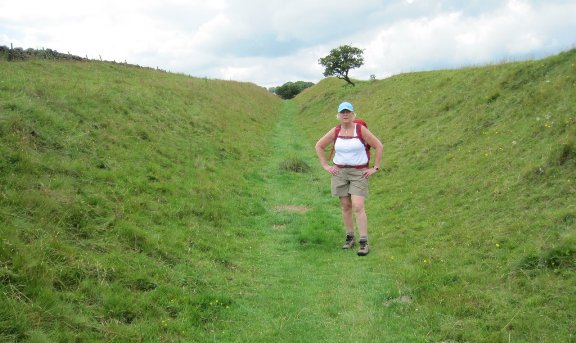 Viv at Longbyre


Although we had this smoother going, I was struggling - I had my boots on and even though I had worn them the day before and they had been fine in all that rain, by the afternoon they were giving me severe pain above my ankle. I could not get rid of it and stopping and starting were very very painful. Added to this the last part of the day seemed to take ages as we tried to find Lanercost Priory where we were staying.
Got there at 5:15.
The owner was waiting for us, showed us the room and told us we were the only ones there, beer and wine in the fridge and left us to it. It was a really nice evening, so we grabbed a drink and sat outside the Tea Rooms of this huge place all on our own, when some visitors turned up. So we chatted to them and Viv even showed them round !
For the evening, we took a taxi ride into Brampton for a really nice meal at the Howards Arms.
| | | |
| --- | --- | --- |
| | | |
| Graham En Route | Cawfields Quarry | Viv Relaxing At An Empty Lanercost Priory |
---
Thursday 22nd July 2010 - Day 5 of the walk
Lanercost to Carlisle (12 miles)
Weather: Cold start, lovely day until almost at Carlisle when it drizzled for about the last hour of today's walk.
The chap at Lanercost returned to cook our brekkie, then dropped us back at the Wall. On the road again at 9:30.
I swapped back out of boots to my walking shoes and could walk fine again.
Cold wind at first, so jumpers on until we soon got a sweat up. Today was another cross-country walk - farmer's fields, rivers, tiny hamlets, cows, sheep, the usual. One thing we've noticed on the second half of the walk is you get really handy "Honesty Boxes" at odd places along the wall with food, drink, fruit etc inside them and you leave money and help yourself. Great idea. (see pic of "The Stall On The Wall")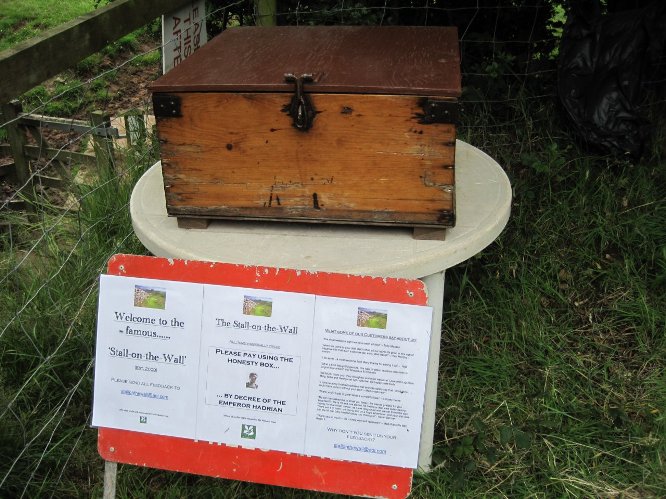 Honesty Box - "Stall On The Wall"

Stopped for lunch at 1 o'clock inThe Stag in Low Crosby. Nice Lasagne with "salad" - you need Viv to describe that one - and a refreshing pint of Jenning's "Cumberland Ale".
Hit Carlisle just as some drizzle started, so wet gear on for a couple of miles again. Found hotel in centre of Carlisle. Can't really say much about this as it is just a typical hotel (Hallmark Hotel) - lacks the charm of everywhere else we stayed, but is good at what it does.
In the evening we ate in Casa Romana, an excellent Italian in Carlisle.
| | | |
| --- | --- | --- |
| | | |
| On Route To Carlisle | The Stag at Crosby | Carlisle Cross |
---
Friday 23rd July 2010 - Day 6 of the walk
Carlisle to Bowness-on-Solway (13 miles)
Weather: Lovely day - sunny all day.
Hurrah - The final day of walking.
Forecast was for a sunny day all day ... and it was. A great day to arrive back at the sea - although, actually, a bit hot to walk in when you have so many miles to do !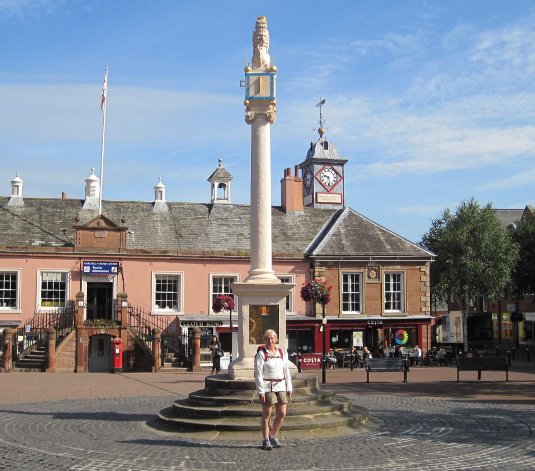 Viv at Carlisle Cross


Left Carlisle, see above, to rejoin the riverside walk from the night before which was really surprising on this side as it climbs and drops as we had to keep going up and down a 50 foot riverbank. Pretty and interesting though.
Viv On The Riverside Walk
Got to Burgh-by-Sands and had lunch and a pint at The Greyhound, next to a statue of Edward the First who apparently died there.
One part of this final day was about 3 miles of Saltmarsh to cross - dead flat, dead straight and very open. Just what we needed in the afternoon sun !
It was quite boring as well and we'd been so looking forward to walking with the sea in view - also spoilt because the tide was about a mile out !

But eventually, we got to Bowness and the finish, which at least at this end is properly marked with a nice little wooden structure on the beach front.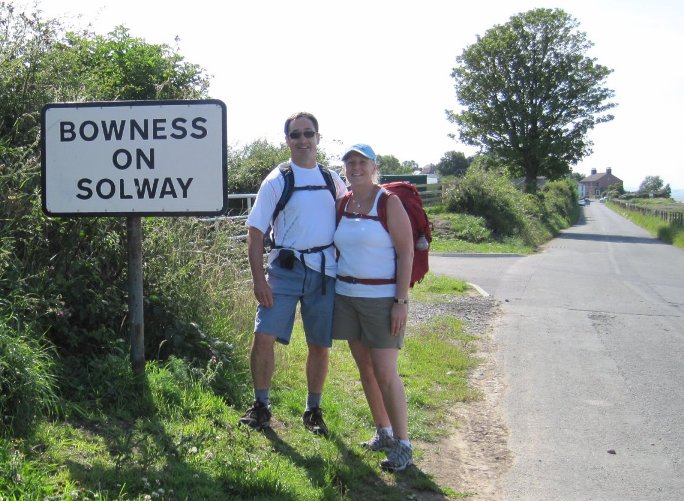 Our Arrival At Bowness-on-Solway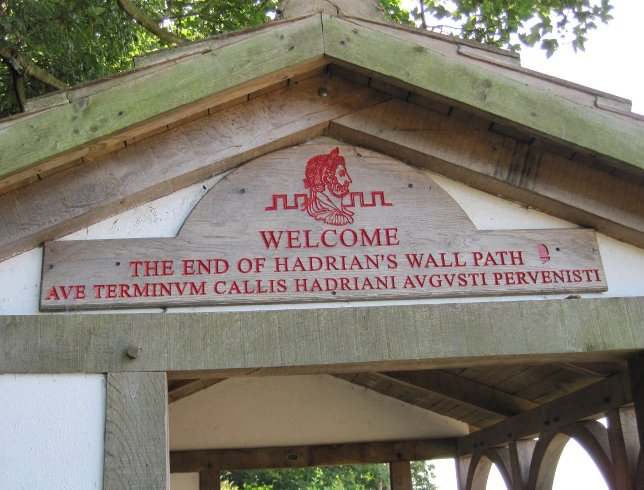 The Finish Line


The accommodation was excellent again with friendly people (Wallsend House).
We celebrated with a nice pint and then dinner in the Kings Arms - the only pub in the village (and in fact, only sign of life).
| | | |
| --- | --- | --- |
| | | |
| Dead Straight Road on the Saltmarsh | The Kings Arms in Bowness-on-Solway | Dinner ! |
---
Saturday 24th July 2010 - Day 7
Homeward Bound
It felt odd getting up and not having to go for a walk - so - we went for a walk down to the seafront again. Of course, being 12 hours later, the tide was still out.
The local bus turned up bang on time at 10:20 and took us back to Carlisle where we had a Virgin train booked to take us back to London. What a difference to the East Coast train that took us up - the Virgin train was dreadful, service poor, nothing about it was as good at all. Pure coincidence that a column writer in the following day's Mail on Sunday then wrote almost exactly those very comments about that train. Amazing.



| | | |
| --- | --- | --- |
| | | |
| Graham at Bowness | You Can See The End Point Top Right | Carlisle Station - Homeward Bound |
---
Summary
In summary - an excellent trip that we would definitely recommend to anyone who fancied a challenge that isn't too testing, but certainly has it's tough aspects. You do get to walk coast-to-coast, all of Hadrian's Wall - over hill and down dale, over countless stiles, through farmer's fields, avoiding sheep poo and cow dung by the bucketload - 84 miles (plus !) from Wallsend (Newcastle) to Bowness-on-Solway.
You get wind on your backs, wind in your faces, we had rain, we had sun, we met strange people, we saw plenty of sights, we had the odd blister, the odd pain or two .... but we enjoyed it and we have great memories.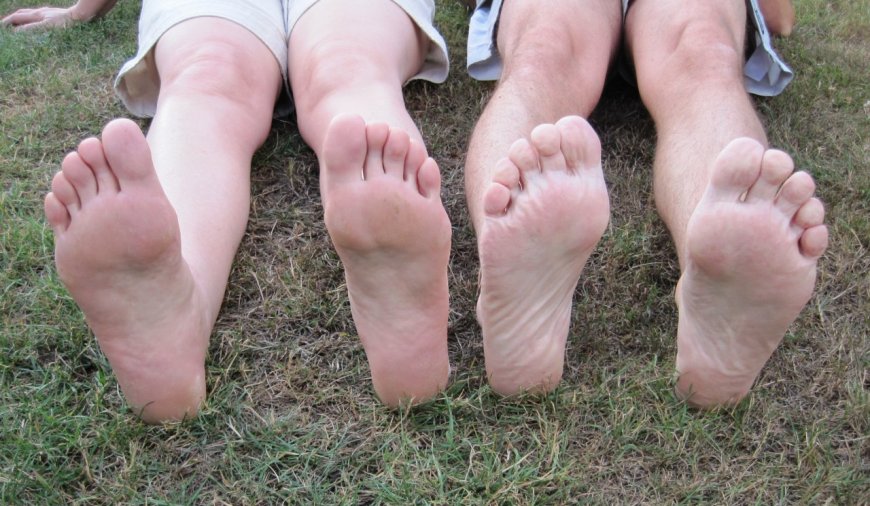 The End