The Brecon Beacons - June 2002
Leanne was away in Spain on a school trip ( Santillana del Mar in Spain), so we decided to take advantage of the lo-o-ong Golden Jubilee bank holiday weekend and take Asa for a Welsh holiday walking in the mountains, visiting castles and generally relaxing.
Sunday 2nd June 2002
As we had to see Leanne off on Saturday, we couldn`t start out until Sunday. Sunday morning we left home about 10:30 and had a nice trouble-free drive around the M25 and down the M4 across the Severn Bridge into Wales.
We stopped at the first town, Chepstow, for lunch. We parked right next to the ancient castle, which was built in 1067 by the Normans. It is one of Europe's oldest stone built castles. Overlooking the river Wye, it is well laid out inside with detailed signs in each area giving a good feel to life through the ages.

There is a nice pub next to the castle car park, and we sat in the sunshine and enjoyed a typical pub lunch of beer and a ploughmans.

From Chepstow, we drove North up the beautiful Wye Valley, stopping halfway towards Monmouth at Tintern Abbey. We looked around the abbey which is worth seeing. It is mostly ruins now, but the main walls, shape and size can be seen, and it was educational.
We then took our first Welsh walk up into the nearby mountains to try and find Offa's Dyke. Offa's Dyke was built by the King of Mercia (Offa) in the 8th century about 786ad. and is an incredible feat for the time, running 168 miles completely from top to bottom of the England - Wales border and was designed to keep the marauders out. At the top is a high point known as "The Devil's Pulpit", but as we climbed steadily upwards it was getting steeper, muddier and more difficult. We had also made the stupid mistake, of having all our proper hiking boots ready in the car, but had thought it a nice day, and set off in our street wear. So, eventually we had to give up near the top ... but we all still enjoyed the lo-o-ong walk very much.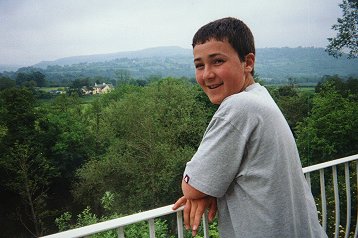 Asa on his hotel balcony

We then made our way via Monmouth and Abergavenny to our Hotel near Crickhowell, The Pantrhiwgoch Hotel. Once there we met some friends (Mark and Helen) and dined that evening in the hotel restaurant.
A splendid meal that evening was enjoyed by all.

Monday 3rd June 2002
Monday morning myself and Mark went off to play golf at the utterly superb Rolls of Monmouth course ("Rolls" being Sir Charles Rolls of Rolls-Royce fame). I have played many courses around the country, but I still put The Rolls down as my favourite.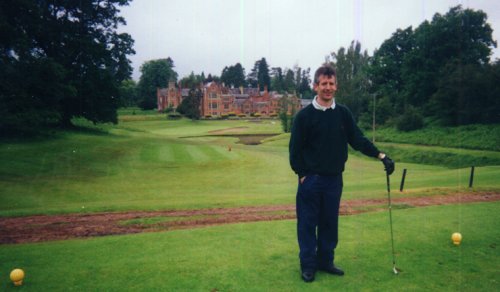 Mark on 18th tee The Rolls

We had a very enjoyable game, Mark being an excellent golfer giving me a bundle of shots (handicaps: he played off 6, and I played off 22) ... and he fairly won it on the final hole. After a couple of drinks in the clubhouse, we joined the other three and in the afternoon firstly went to Raglan Castle, and then later a drive in the Brecon beacons.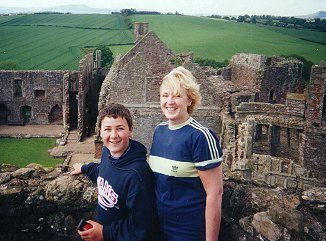 Asa and Viv up Raglan Castle

That night, we found a different nice pub/restaurant (The Bluebell Inn) and had another excellent meal avec drinks.
Tuesday 4th June 2002
Mark and Helen had planned to journey home, but as we booked a fun afternoon at the Taff Valley Quad bike centre, they decided to join us there.
So they did their own thing in the morning, whilst we went into the mountains again. Viv and Ace climbed Fan Fawr at 2,409 feet, whilst I enjoyed the views stopping just short of the top. It was a very steep climb and quite slippery and I poised myself to catch them if they fell.
| | |
| --- | --- |
| | |
| Arrival at the Quad Bike Centre | Asa on Quad Bike |

Next stop the Taff Valley Quad Bike Centre.
The quad bikes were brilliant ... 250cc for the adults, with Asa and Helen on adequately powered 90cc bikes. After a ride with tuition around a test track, the rest of the session is around Welsh farmland. It was a scream, we all enjoyed the bikes VERY much, even Helen who was extremely tentative to start with (and looking incongruous in her riding gear) managed to get out of first gear.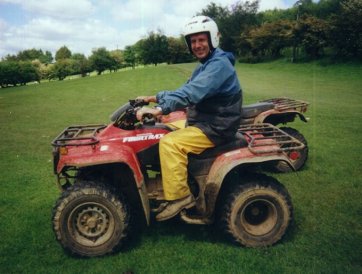 Mark on quad bike
Unfortunately at this point Mark and Helen had to get home for work the following day, but we had the rest of the week booked off.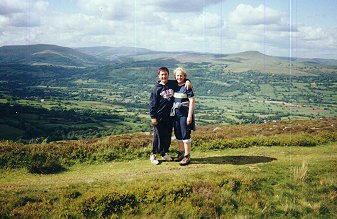 Atop Blorenge

So, from the quad bike centre we went back into the mountains and that afternoon had a long hike around the top of one called Blorenge.
That evening we found ANOTHER nice pub/restaurant called The White Hart in Crickhowell with good food (and drinks) again.
Wednesday 5th June 2002
After breakfast we immediately rung a local Riding centre and booked a morning's pony trekking. We had never done it before, and expected to just arrive there and ride horses already prepared and ready to go.
After a long 10-mile ride along a one track road in the black mountains we arrived in Capel-y-Ffin at the Grange trekking centre.
We were non-plussed when the owner started to give as grooming and tack handling lessons ! .... and then indeed, we had to brush down our own mount and fix the saddlery and bridle BEFORE we could ride.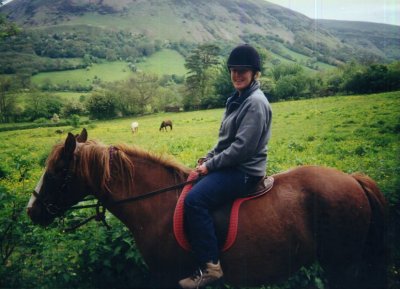 Viv on Cromwell
I won`t go into detail of the ride but believe me it was sensational.
Up incredible terrain, across fields, along a ravine. Some trotting, an attempt at a canter ... all exhilarating.
And we even had to brush down the horse afterwards as well !
Afterwards, we found an amazing old pub in the middle of the Black Mountains which was like something out of "American Werewolf in London" and had a ploughmans and played bar billiards.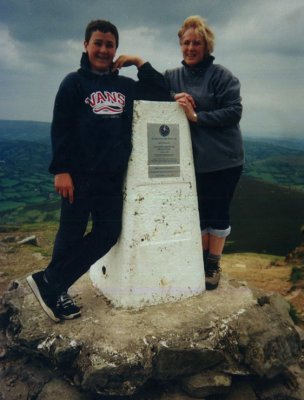 Viv and Asa on Sugarloaf Mountain

In the afternoon, we climbed Sugarloaf Mountain. This is one of the biggest, and nearest to our hotel and just had to be done. It took us about 2 hours to get up, and about 40 minutes to get down. What a climb. But it's nice to be able to say "we`ve climbed Sugarloaf Mountain" ... even if it was 6,000 miles away from Rio !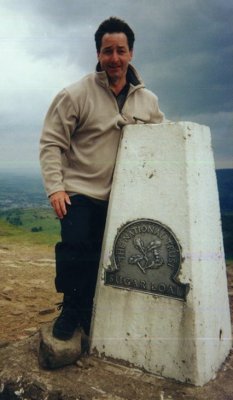 Graham on Sugarloaf Mountain
That evening we found one of the best restaurants in the entire country. Egon Ronay winner, with plaques on the wall outside covering almost every year ... and awarded The restaurant of Wales in 1997, 1999 and 2000 ... superb food and layout. If you're in the area, it's called The Nantyffin Cider Mill Restaurant.
Thursday 6th June 2002
Time to leave as we have to be back early for Friday morning to meet Leanne back from her trip from Spain. But no rush home, we can take all day, so we ignore the M4, and go through the Forest of Dean, then through Gloucester and spend the day at Oxford. We took a nice open top bus through the city and saw ALL the university colleges ... I didn`t know there were so many ... 43 (yes, forty-three) we counted !
Anyway, after that ..... home.
And that was our trip away.
On the Friday, we picked up Leanne ok .. and then just to make the holiday seem complete, we watched England stuff the Argies with a few mates from work dropping in to watch in comfort.
So another nice day !!